Home » Press Room » Symphony News
Feb. 3: FREE Inside Music Series Event with Christine Grossman, viola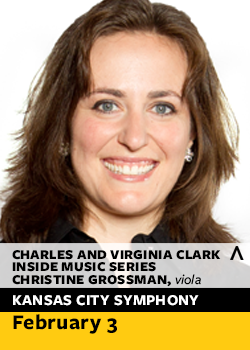 Throughout each concert season, the Kansas City Symphony's Charles and Virginia Clark Inside Music Series features a variety of world-class artists and guests. On Saturday, Feb. 3 at 11 a.m. in Helzberg Hall at the Kauffman Center for the Performing Arts, the Symphony presents its next 2017/18 Inside Music Series event featuring the Symphony's Principal Viola Christine Grossman and local student musicians.
These events not only provide students a chance to perform in Helzberg Hall but also a special opportunity to garner expertise from current artists in the world of classical music.
Seating for this free event is general admission and reservations are required. RSVP here. Parking in the Arts District garage is $10 at the gate.
To read more about the Symphony's education programs, visit the education page or please contact Education Manager Stephanie Brimhall at (816) 218-2639. If you would like to support this and many other programs, please contact the Symphony Development Department at (816) 218-2646.