By Patrick Neas, Special to The Star, Oct 23, 2020
Kansas City Symphony thinks 'inside the box'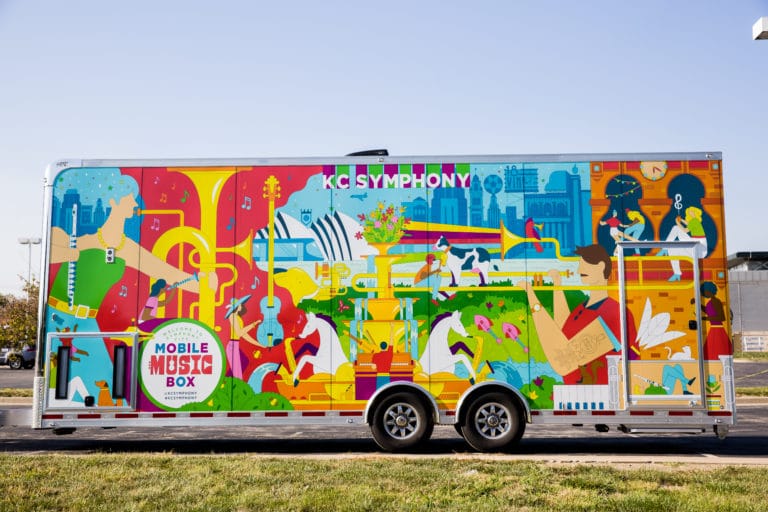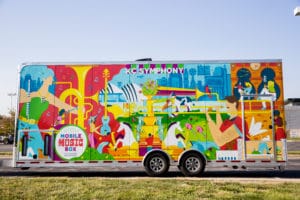 The KC Symphony's new brightly-wrapped Mobile Music Box stage features original artwork by Kansas City-based Whiskey Design.
Danny Beckley was an accomplished orchestra manager before he became the executive director of the Kansas City Symphony in 2019. Although his skillful leadership of the Indianapolis Symphony Orchestra and the Charleston Symphony Orchestra had given him valuable experience, nothing could have prepared Beckley for a world-wide pandemic. "That wasn't in the job description," Beckley said. "I have mentors I can turn to, and they tell me they've never had to deal with this. Nobody who is running an American orchestra has ever seen anything like this before." COVID-19 has wreaked havoc for orchestras around the world. Many have been forced to furlough or lay off musicians and even close down completely. Luckily, because of its strong base of support, the Kansas City Symphony has been able to avoid such draconian measures. Still, the pandemic is posing unprecedented challenges for Beckley and other orchestra managers around the country.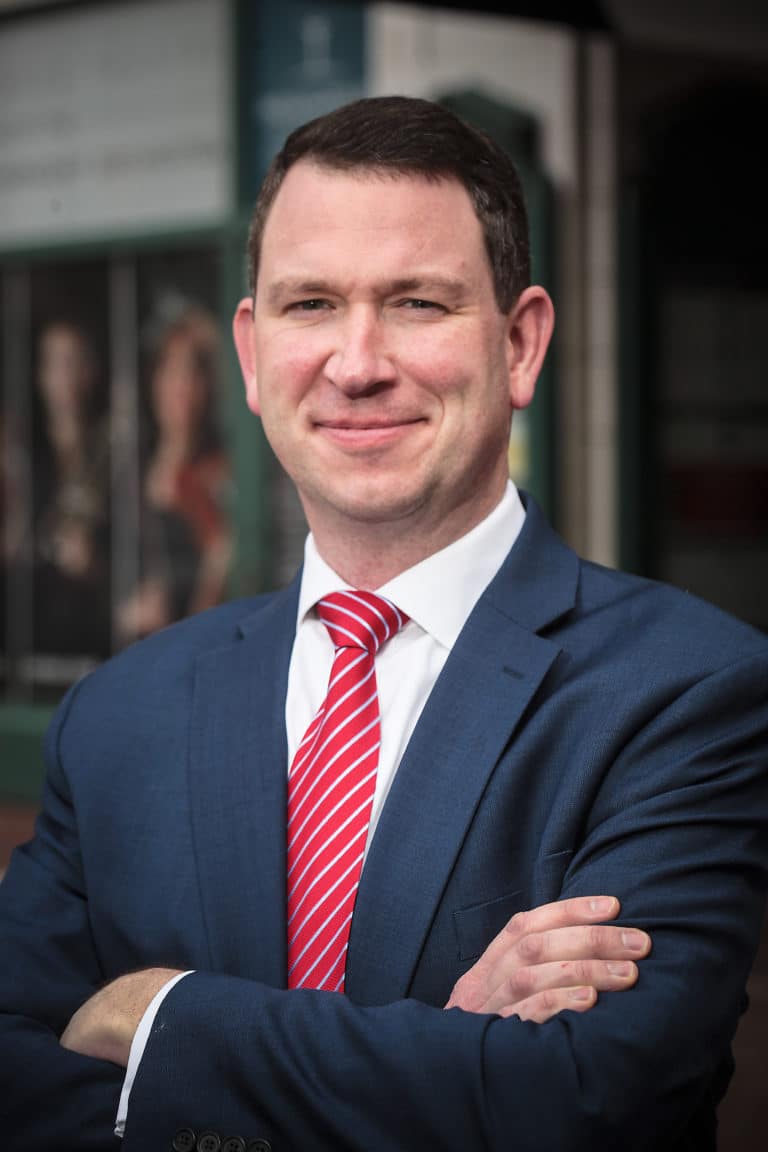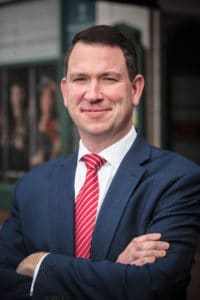 Danny Beckley, Executive Director of the Kansas City Symphony.
Even before COVID-19 struck, Beckley was preparing initiatives to tackle what he sees as long-term challenges for the Kansas City Symphony. The pandemic has allowed him to accelerate his plans. "For quite a long time, I've seen the clear trend in classical music is a decline in audience size and audience engagement," he said. "We've made up for that by doing things like 'Star Wars' with orchestra and other blockbuster films, but in terms of our core focus on classical symphonic music, it's been on a pretty linear decline for the last 10 years or more."
To counter this trend, Beckley believes the symphony needs to bring music to the people. And what better time to do that than when people are not coming to the concert hall and musicians have lots of time on their hands? Thus Mobile Music Box was born. "We had the idea to go into every community in Kansas City, all 150 ZIP codes of the metro area, with an in-person performance," Beckley said. "But logistically how could we possibly pull that off? That led to the idea of our own self-contained performing stage, so we could just pull into a parking lot and put on a concert without a venue. We started to sketch out what that could look like, literally on a cocktail napkin." Beckley found a trailer manufacturer in Indiana to build a custom-designed portable stage that is completely off-the-grid. It has heat, air conditioning, amplification, everything needed for a concert without having to plug in anything. The symphony was now able to visit neighborhoods all over Kansas City. While other orchestras have furloughed their musicians, the Kansas City Symphony has given 70 different Mobile Music Box performances since Labor Day. "Our typical season is 130 performances a year," Beckley said. "We've done more than half of that the first six weeks of our fall season. We're really proud of that. And it's really good for the morale of the orchestra."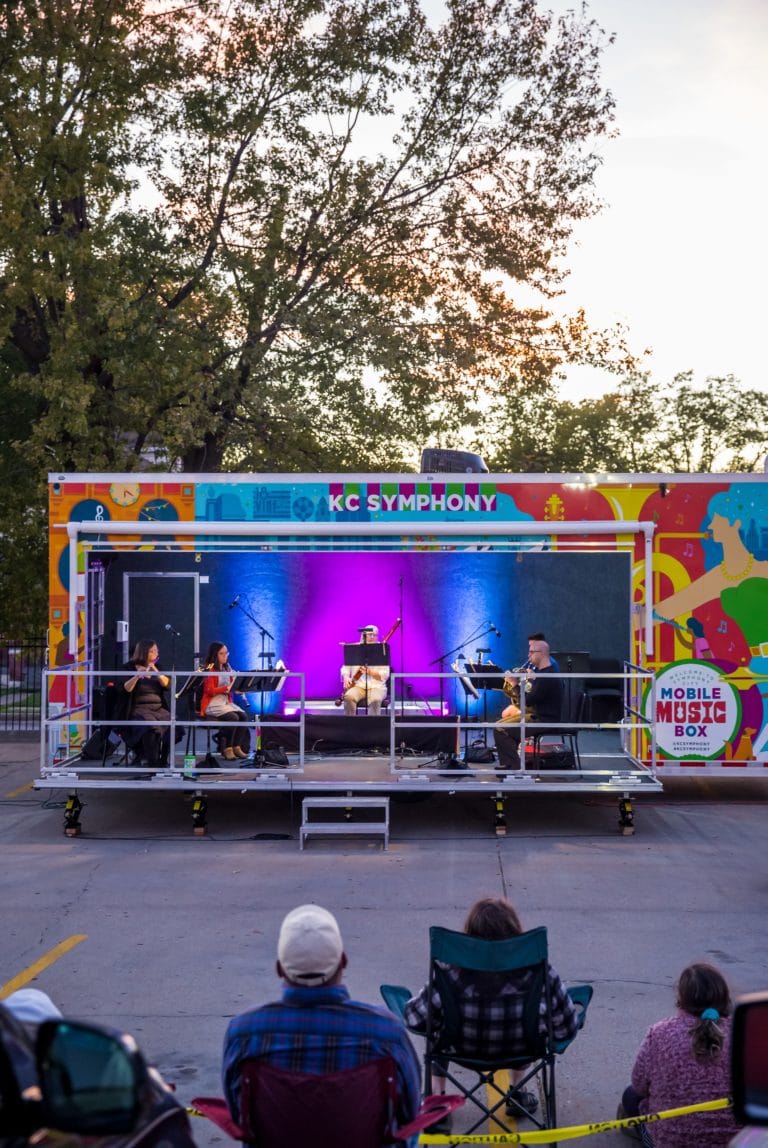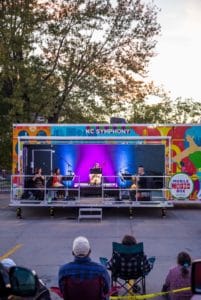 The Kansas City Symphony's Mobile Music Box brings music to people all around the Kansas City metro area. (Photo courtesy of Stephanie Brimhall)
Beckley says he wanted a grassroots approach, where the communities would decide whether to have the symphony perform in their neighborhoods rather than have it imposed on them by the Kansas City Symphony. So he called city council members, elected officials and church leaders offering the free concerts. Beckley's phone soon started ringing. "We started booking places that had invited us to come," Beckley said. "The people we're reaching are not the same audience you see in the Kauffman Center. They're people we've never seen before. A gentleman came up to me and said, 'We can't even get businesses to come and service our homes because they say they won't go east of Troost, yet you guys come out. It means so much to us.'" The Mobile Music Box stage is brightly colored with eye-catching designs. It's quite a sight when it pulls up into some neighborhood parking lot. "It's like the circus is coming to town," Beckley said. "We purposely went for that kind of look because we wanted it to be exciting. We wanted it to catch people's curiosity and look like something people would want to walk up to." Beckley says the Mobile Music Box concerts will continue this year as long as the weather allows. Although marching bands can play in the cold, string instruments are more delicate and require dexterity, which becomes difficult when the temperature drops below 50 degrees.
"The trailer is heated, so that's buying us a little bit of wiggle room," Beckley said. "My hope is that we're still able to perform into December. Our performances won't be as frequent, but we'll certainly utilize whatever good weather we can get. We'll pick things up when it starts to get warm again." Beckley is working on other projects designed to appeal to Gen X and younger audiences. He says several musicians have bought cameras and are teaching themselves video production to put their performances online. The symphony is planning its own digital content, which Beckley says won't try to recreate the concert hall experience but will be different and accessible. "Attention span is an issue," he said. "My attention span in front of a computer is different than it is anywhere else. We're thinking hard about the length of the programs we're going to put online. You won't have to hunker down for 45 minutes. It's going to be short pieces and short programs." By taking advantage of the downtime the pandemic has afforded, Beckley is helping create future audiences who will want to experience the symphony as it was meant to be experienced: in Helzberg Hall. "I am so proud of this community and how it stands up for culture and the arts," Beckley said. "We ask people to stick with us. Know that we're doing everything we can do and thinking every day about new things we can do to continue service to this community that we love. Trust that there will be better days ahead."
For more information about the Kansas City Symphony, www.kcsymphony.org.
You can reach Patrick Neas at patrickneas@kcartsbeat.com and follow his Facebook page, KC Arts Beat, at www.facebook.com/kcartsbeat.