Arts District Parking Garage @ The Kauffman Center
Standard Parking: $16, or $13 in advance
Valet Parking: $24, or $22 in advance
Parking is available in the 1,000-car Arts District garage, adjacent to the Kauffman Center for the Performing Arts. This parking structure offers convenience and shelter from inclement weather. Parking is safe and affordable. Season subscribers can purchase parking vouchers in advance. Accessible parking is available on a first come, first serve basis. We advise patrons needing an accessible parking space to arrive early.
Valet service offered for most performances. Call the box office for availability. For your convenience, the drop-off lane is located on the south side of the Kauffman Center, accessed from Broadway. Order in advance online or call the Symphony Box Office at (816) 471-0400.
Charging stations for electric cars are available in the garage on level 3, located on the north wall of the garage, or west (left as you face the Kauffman Center), of the entrance to the garage elevator lobby.
Due to frequent performances with multiple events occurring in the Kauffman Center, we strongly encourage you to arrive early to ensure you have a parking space for your performance.
Additional Parking, Traffic & Transportation
Street Parking & Standard Parking Surface Lots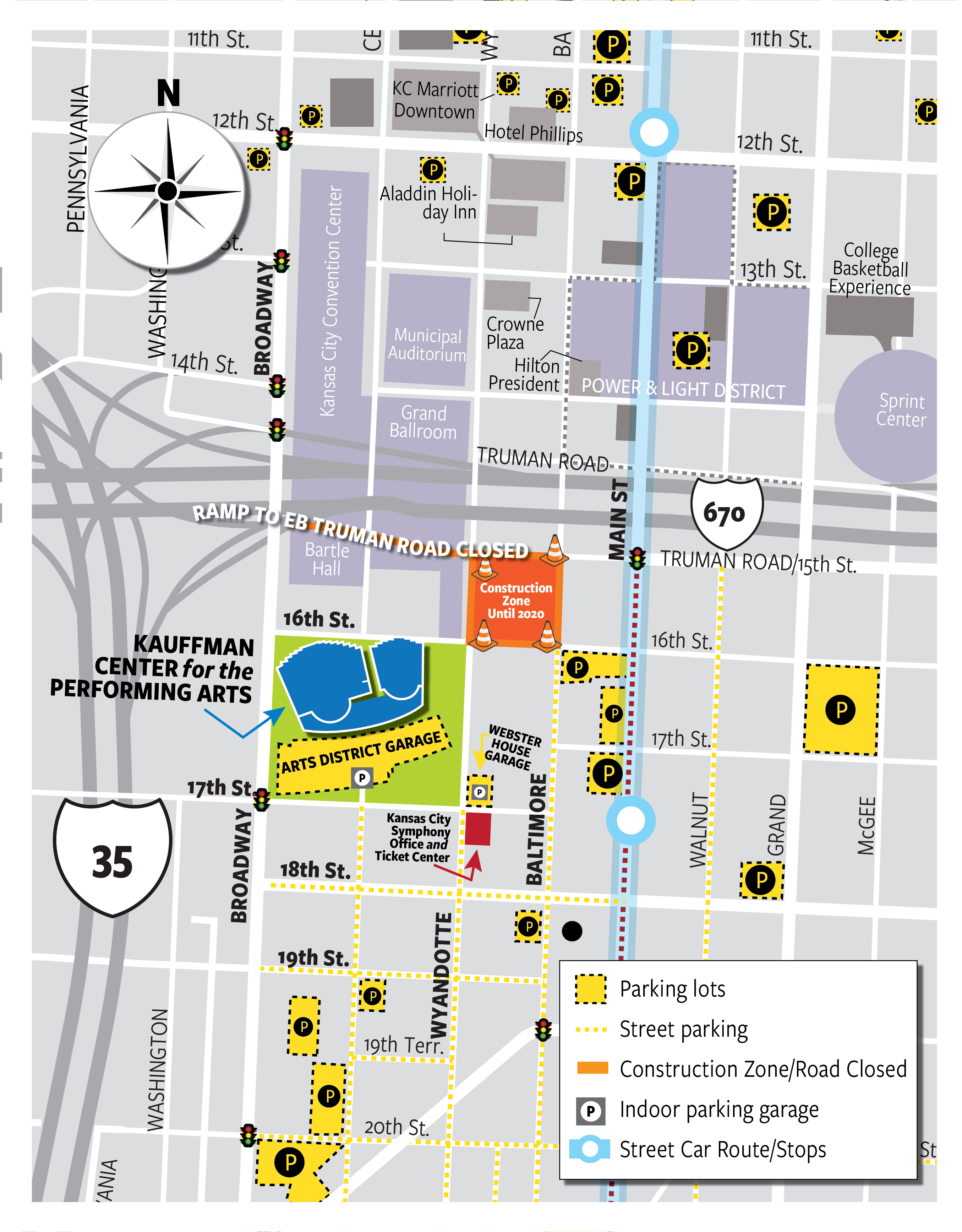 In the Crossroads District, where the Kauffman Center for the Performing Arts is located, there are numerous surface parking lots available for Symphony events. Numerous parking spaces are available throughout the Crossroads District, including free parking along Central, Wyandotte and Baltimore Streets, plus 17th, 18th and 19th Streets. There is also available parking for purchase in the new Webster Garage.
Available street parking and surface lots are highlighted in yellow.
Downtown Traffic Information
Downtown Parking and Road Closures
Please be advised there are numerous lane and road closures involving multiple construction projects in and around Downtown Kansas City. 
View our downtown parking map to reference parking areas near the Kauffman Center for the Performing Arts.
Road and Traffic Conditions
The Kansas City Metro area has several online and mobile tools available to help you navigate construction, inclement weather and overall road conditions.
KC Scout offers live traffic updates in the metro. Sign up for alerts, follow the real-time Twitter updates, view the map on the web or download the mobile app.
Missouri Road Conditions Map (MODOT)
Missouri Department of Transportation (MODOT) Traveler Information Map lists road conditions throughout entire state of MO.
Kansas Road Conditions Map (KDOT)
Kansas Road Conditions Map lists road conditions throughout entire state of KS.
Limousine Service

Enjoy the same world-class service all our guest artists receive from our official ground transportation partner: LEADER Worldwide Chauffeur Services. Choose from a variety of special roundtrip or charter packages in your choice of Luxury Sedan, SUV, Passenger Van or Stretch Limousines for an easy, convenient, worry-free evening.
Call (816) 753-5323 or go to LEADERWorldwide.com to reserve your trip today.