Thursday, September 28th | 5:30 p.m. – 9:00 p.m.
Experience an unforgettable evening at Forte
Join us on September 28, 2023 from 5:30PM –9:00PM for a progressive food, drink, and musical tour of the historic Shirley Bush Helzberg Symphony House.  This is unlike any other young professional's event in Kansas City and we can't wait to have you join us.  You will experience an intimate musical voyage throughout the evening in a cozy setting while enjoying tastings from local restaurants, distilleries, wineries, and breweries.
Your ticket includes mini performances by the Kansas City Symphony musicians on all three levels as well as one outside on our patio.  You will have the opportunity to interact with the musicians throughout the evening as well.
Space is limited so purchase your tickets today!
$65.00 includes music, food, drinks, and parking.
GET YOUR TICKETS HERE
Must be 21 or over to attend. Tickets are non-refundable.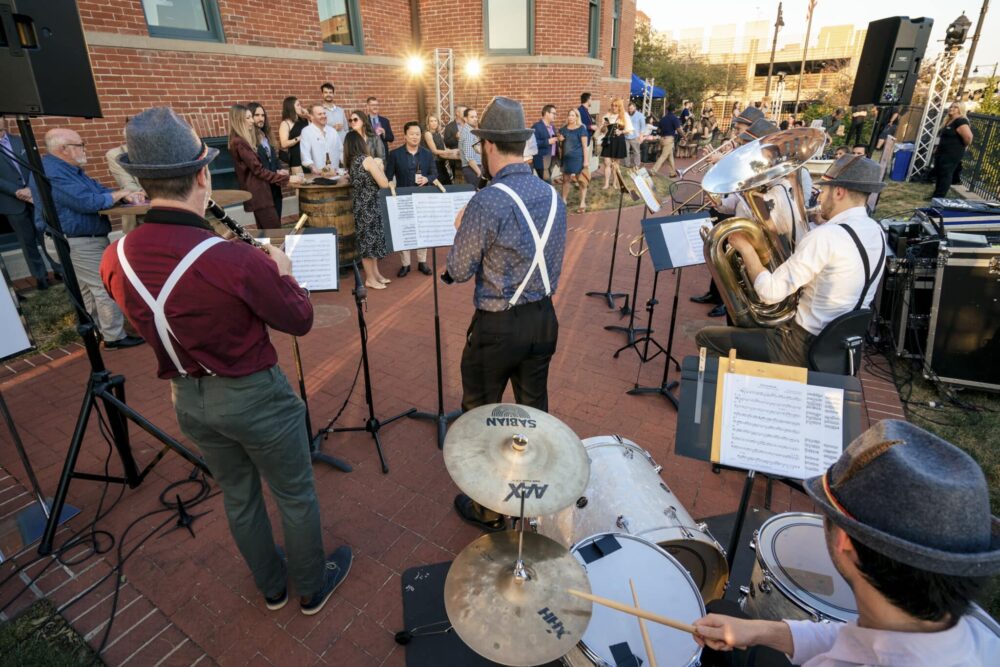 Delicious tastings from the following restaurants:
SAVORY
– Small Bites: Red Wine Braised Short Rib on top of a Roasted Red Pepper Polenta Cake with Microgreens by Chef Kansas City
– Burnt end Sliders, Bacon Wrapped Glazed Meatballs and Deviled Eggs topped with Bacon Bourbon Jam from Crazy Good Barbeque
– Meat pies and Chicken Kebobs from Fannie's West African Cuisine
– Mac and Cheese BLT by Homesteader Cafe
– Fresh pasta tastings from Lidia's Kansas City
– Vegan Sweet Potato Curry (sweet potato hash (roasted sweet potato, red onion, red pepper, and kale), brown rice, RJ's curry, fresh cilantro & lime), and a Warm Apple Cider by Ruby Jeans Juicery
– Whipped Goat Cheese from Silo
– Fresh Bruschetta on Herb Parmesan Crusted Baguette & Antipasto Skewer with Mozzarella, Olive, Artichoke and Sundried Tomato by Tavernonna @ Hotel Phillips
– Quinoa stuffed chicken with a truffled mushroom cream sauce by Urban Café
SWEET
– Cheesecakes from Bizz and Weezy
– Notoriously Naughty Chocolates by Bootleg Bourbon Balls
– Amazing chocolates from Christopher Elbow
– Magnificent Macarons by Kate Smith Soiree
– Decorative cookies by Swoon – Cookie Crafters
– Brazilian Confections by Sweet Kiss Brigadeiro
Complimentary portraits provided by:
– Kul and Krafty
Musical Selections
As you stroll the halls of this magnificent structure, you will have the opportunity to enjoy special selections by Kansas City Symphony Musicians in private settings within the Symphony House.  The Symphony musicians will be performing three sets throughout the evening that will also match the theme of the space.  This intimate experience will transform your senses and transport your emotions to previous eras and styles of music.  The musicians are excited to interact with you and look forward to seeing you on the 28th.
Bohemian Boulevard – Main Level
Performance Times – 6:15, 7:00, 7:45
Jun Iwasaki, violin
Filip Lazovski, violin
Duke Lee, viola
Susie Yang, cello
Selections from Béla Bartók 44 Violin Duos
Bartok, String Quartet No. 4
IV. Allegretto pizzicato
Jazz Junction – Outside
Performance Times – 6:15, 7:00, 7:45
Julian Kaplan, George Goad, trumpets
Liz Gray, horn
Wyatt Henderson, trombone
Joe Lefevre, tuba
KC-influenced jazz to jazz-influenced "classical" music.
Charlie Parker – My Little Suede Shoes
Count Basie – Shiny Stockings
Sammy Nestico – Portrait of a Trumpet
Enrique Crespo-Suite Americana for brass mvt. 1 (Ragtime)
Harmony Hills – Basement Nature Space
Performance Times – 6:30, 7:15, 8:00
Minhye Helena Choi, violin
James Zabawa-Martinez, violin
Jenifer Houck, viola
Meredith McCook, cello
"Middleground" by Shelley Washington
Crossroads Carnaval – Second Floor
Performance Times – 6:30, 7:15, 8:00
Kristina Fulton, oboe
Silvio Guitian, clarinet
Max Pipinich, bassoon
Villa Lobos Reed Trio Mvt. 1
Have any questions? Click below to check out the Forte FAQ page.