DATE BALLS
Nancy Beckmann, violin
If you like dates and coconut, you will love these!
They are a special holiday treat that I only make at Christmas.
In a saucepan, melt ¼ cup butter and blend in ½ cup brown sugar.
Stir in 1 beaten egg.
Cut up 8 oz. dates. Add to the mixture and cook until thickened.
While still warm, pour this over 1 ½ cups Rice Krispies and ½ cup nuts and stir to combine.
Form into balls and roll in coconut (7 – 10 ounces).
Let cool on waxed paper. Store in an airtight container.
Makes 32 – 45 balls, depending on the size.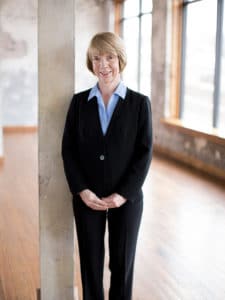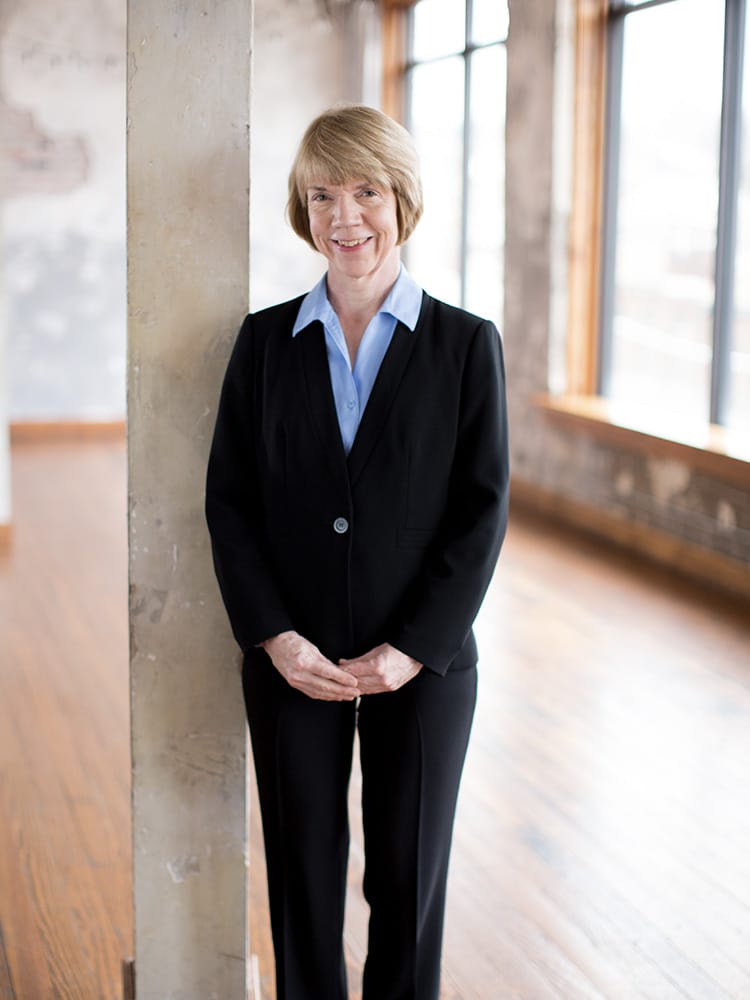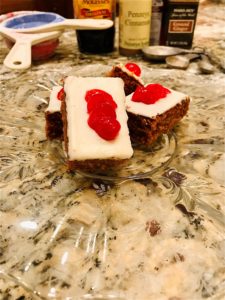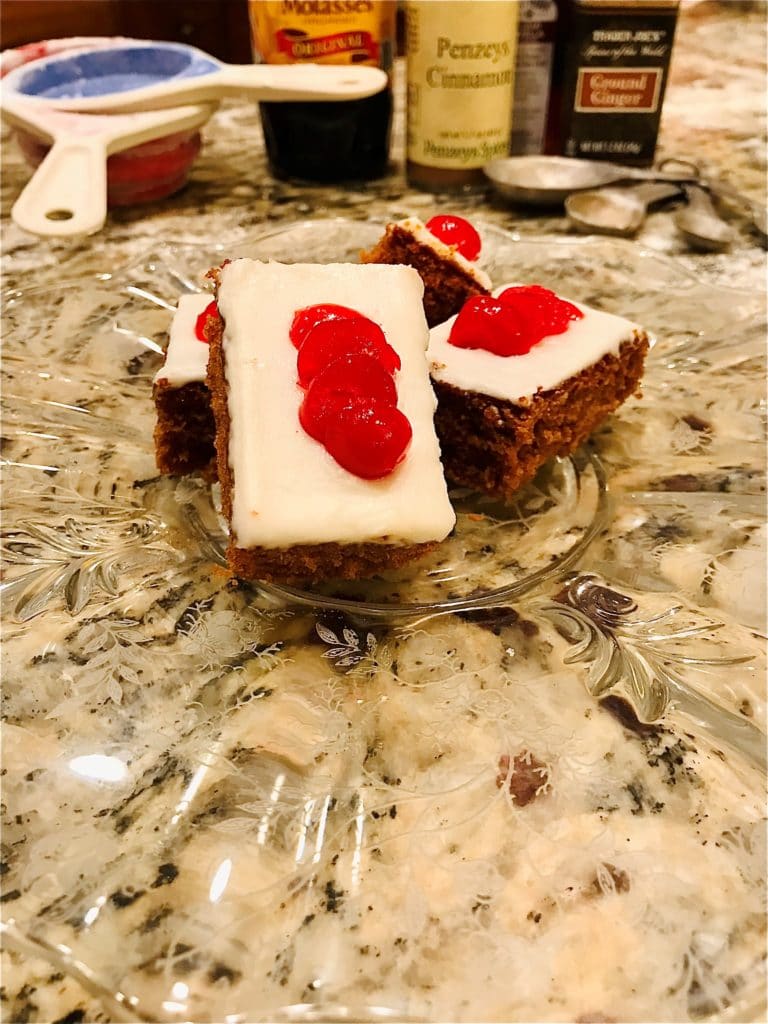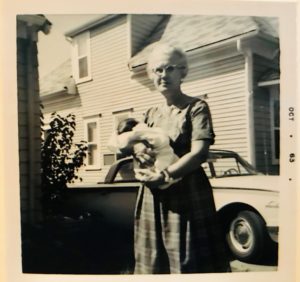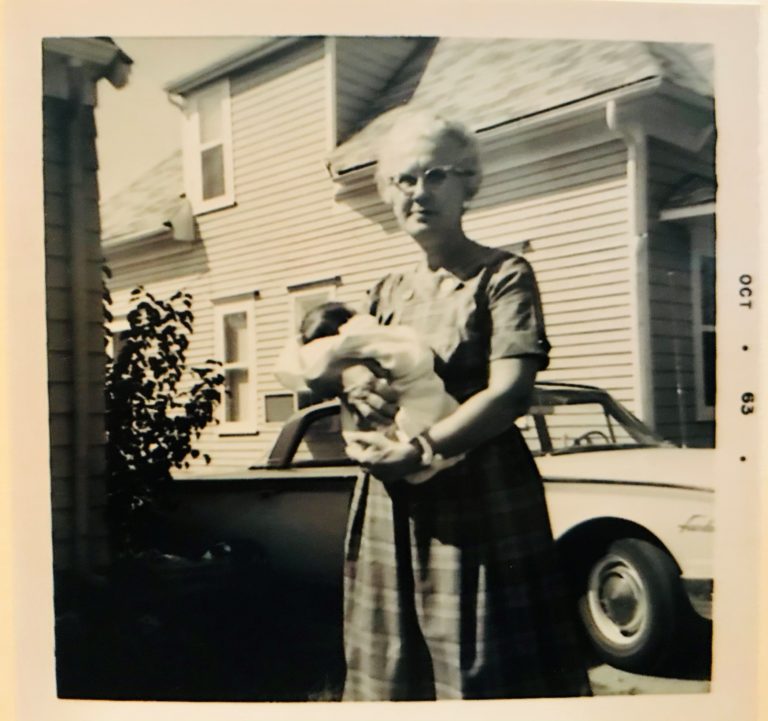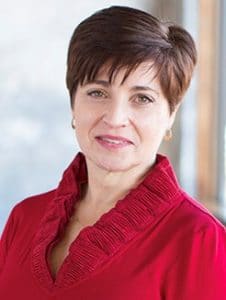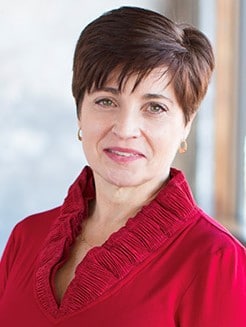 (above left) Grandma Thiel holding baby Elena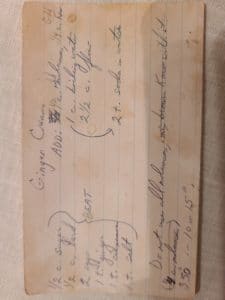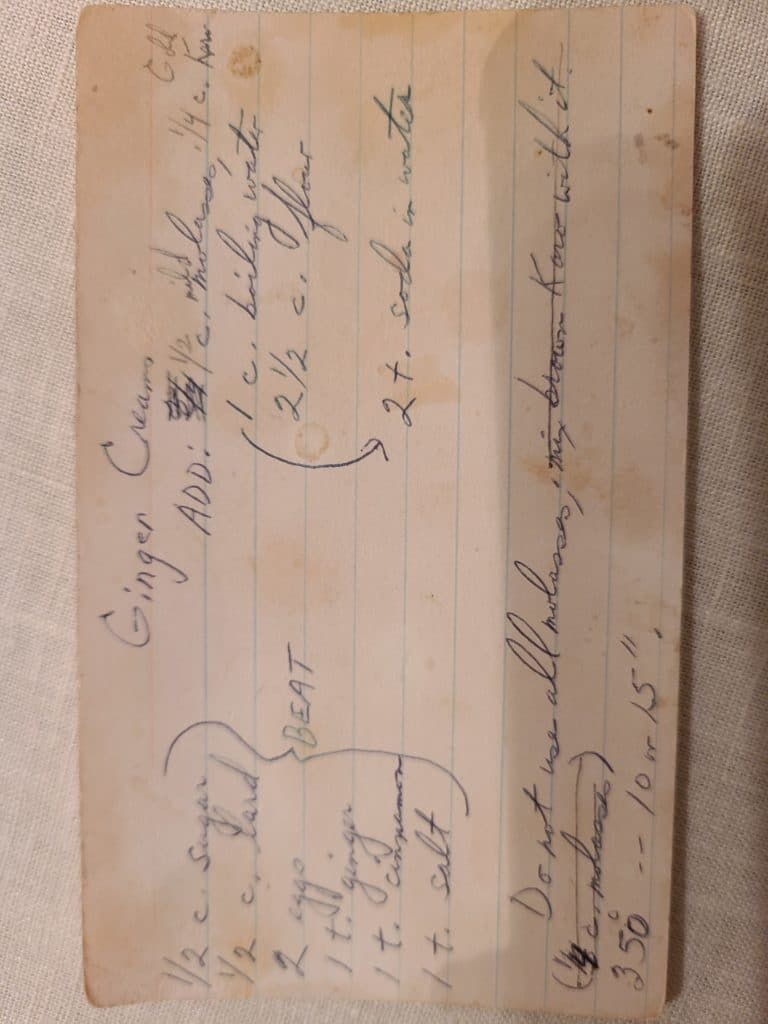 (above) Marlene Lence's Ginger Creams recipe card
GINGER CREAMS
Elena Lence Talley, Principal Librarian
My maternal grandmother, Lillian Thiel, lived in the tiny village of Campbellsport, WI and was known as an excellent and frugal cook and baker. As a child, I was apparently a huge fan of her skills. One of my favorite stories depicts when I was a toddler and I would swipe homemade loaves of her bread off of the counter — the insides would be consumed and the crust would be left as a memento. No loaf of bread was safe!
My mother, sisters and I have been making Grandma Thiel's Ginger Creams religiously every Christmas.  I think the recipe dates back to the 1930's. The Creams are so tender and delicious, and even people who are not gingerbread fans love these. My mother always decorates each petite square with maraschino cherry for a dash of holiday color.
Ingredients:
½ c. softened unsalted butter or shortening (my grandmother used shortening)
½ c. sugar
1 tsp. ginger
1 tsp. cinnamon
1 tsp. salt
2 eggs
½ c. mild molasses (like Grandma's brand)
¼ c. dark corn syrup
1 cup boiling water
2 tsp. baking soda
2 ½ c. flour
Preheat oven to 350 degrees. Grease and flour (or use Baker's Joy) a 10 ½ " x 15 ½" jellyroll pan.
Cream the butter or shortening and sugar with an electric mixer on medium high until fluffy. Beat in the eggs, spices and salt on low speed (mixture may look curdled). Scrape the sides of the bowl as needed. Mix in the molasses and corn syrup. Combine the boiling water and baking soda. Mix in the water and flour on low speed, alternating water and flour, mixing only until smooth. The batter will be thin.
Pour into the prepared pan and bake in the middle of the oven for 13-18 minutes until a toothpick inserted in the middle comes out clean with only a crumb or two clinging to it. Do not over bake. Cool pan on wire rack. Frost with simple buttercream and decorate:
Simple Buttercream
3 Tbl. unsalted butter, softened
2 c. powdered sugar
Dash salt
1 tsp. vanilla
1 ½ -3 Tbl. milk or ½ and ½
Combine butter, sugar, salt and vanilla and beat with electric mixer until fluffy. Blend in milk or cream until of spreading consistency. Spread on Ginger Creams, cut into squares or bars and decorate with maraschino cherries as desired as the Thiel/Lence/Talley families do!
MOM'S BOOZY EGG NOG
Roger Oyster, Principal Trombone
The following is my Mom's Egg Nog recipe. She was a chemist by training, the only female trumpet player in her Parkersburg, WV High School Band, and, among her many skills and talents, she knew how to throw a party. To that end, below is her Egg Nog "recipe", notable for its deliciousness, its ease of concoction, and, depending on proportions of ingredients, its potent efficiency.
Ingredients:
1 gallon of store bought Egg Nog
1 gallon of store bought Egg Nog Ice Cream (see below)
1 bottle of Jim Beam
1 bottle of Myer's Dark Rum
Pinch of nutmeg, cinnamon, or both
1) Pour the egg nog into a punch bowl.
2) Add the egg nog ice cream.
3) Add Jim Beam and Myer's, in equal amounts appropriate for the occasion
4) Sprinkle nutmeg, cinnamon, or both, on top.
5) Wait 20 minutes, approx; serve
The beauty of this is that as the ice cream melts, it keeps the egg nog cold and makes it more creamy. One caveat: these days, Egg Nog Ice Cream, once a staple of this time of year, is sometimes hard to find. Google it to see if it is available near you. If all else fails, there are a number of recipes posted on line (Epicurious, altonbrown.com, and others).
Exact amounts of the alcohol are up to you—this recipe will enliven most any party of consenting adults, imbibed wisely and judiciously, of course.
Enjoy. Thanks, Mom.