Get to Know Guest Violinist Anne Akiko Meyers
March 6, 2017
---
Guest violinist Anne Akiko Meyers will perform the Ravel's Tzigane and the late Finnish composer Einojuhani Rautavaara's Fantasia (world premiere) on March 24-26 with the Kansas City Symphony. The program also includes Sibelius' Second and Nielsen's Overture to Maskarade. Tickets from $25. Call (816) 471-0400 or select seats online.
Tell us about two works — the Ravel and Rautavaara — you will be playing with the Symphony this month.
I have been a lifelong fan of Einojuhani Rautavaara's and asked him to write Fantasia in 2015. He leapt at the opportunity to write what turned out to be his last composition for violin and orchestra and later that year, sent me the beautifully haunting work. He invited me to perform Fantasia at his studio in Helsinki in December 2015. It was a profoundly moving experience with the composer sitting his living room, which overlooks the Finnish harbor. After I performed, he commented that he wanted no edits or revisions and he was super pleased with the beautiful composition he composed! I couldn't agree more. Sadly, Rautavaara passed away last year. I am honored to premiere it with Michael Stern and the Kansas City Symphony.
Ravel's Tzigane is a gypsy virtuoso showpiece, and it is a perfect complement to the Fantasia. The Tzigane begins with a monster cadenza that challenges every violinist. The piece is a huge crowd pleaser.
Are you looking forward to performing in Helzberg Hall with Michael Stern and the Kansas City Symphony? This will be your debut with the Kansas City Symphony, correct?
I met with Michael Stern's father, the legendary violinist, Isaac Stern, to test out violins at Carnegie Hall and met with him on tour in Japan. I am really looking forward to collaborating with Michael, hearing and premiering this beautiful new work together in Kansas City!
While this is the world premiere of Rautavaara's Fantasia, you have recorded the work already. What was that experience like? Is it your most recent recording project?
I recorded the work with the Philharmonia Orchestra conducted by Kristjan Järvi. I found the experience incredibly moving and believe the Rautavaara will be considered one of this composer's masterpieces.
What advice do you give aspiring musicians?
Get out and play as much as you can! Create performance opportunities by performing in hospitals, churches, synagogues, retirement homes, etc. Sharing and communicating to audiences through your music is what it is all about. 
What are your sources of motivation and inspiration?
Everything around me. Family, life, food, music, nature, paintings, history.
We've noticed you have some unique publicity photos of you and your violin among huge trees. Did you have to hike prior to this photo shoot? How did you decide on that particular setting?
That was a very wet, rainy day outside of Austin, Texas, and the photographer raved about the area. There was a giant tree that looked like a heart was part of it. I had to be extra careful not to fall with the slick conditions and wait for dry patches of sky to take the violin out. 
Do you have any pre-concert rituals before you step out on to the stage?
I like to rest in the afternoon after working out and gorging myself on a big carb lunch. A Skype chat with my family, nutrition bars and bananas help me immensely before hitting the stage.
What do you like to do in your free time?
Free time? I have a 4- and 6-year-old at home.
What are upcoming highlights of your remaining 2016-17 season? Do you have summer festival commitments or other concerts?
I will be headlining a Beethoven festival in Japan, performing the Bernstein Serenade in Nashville and performing recitals in New York and Washington D.C., among other performances.
This summer, I will be premiering the Samuel Jones violin concerto at the Eastern Music Festival in South Carolina, performing the Mendelssohn Concerto at Bowdoin (a festival I attended as a student) and performing Ravel's Tzigane with Keith Lockhart at the Brevard Festival. 
Anything else you'd like to add?
I look forward to sharing the Rautavaara and Ravel with audiences in Kansas City!
---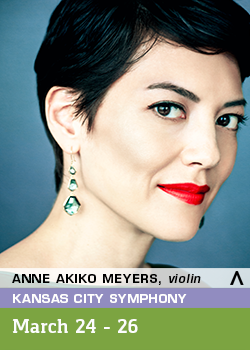 Kansas City Symphony Classical Series
HOPE SPRINGS ETERNAL: SIBELIUS' SECOND
Friday and Saturday, March 24-25 at 8 p.m.
Sunday, March 26 at 2 p.m.
Helzberg Hall | Kauffman Center
Michael Stern, conductor
Anne Akiko Meyers, violin
NIELSEN Overture to Maskarade
RAUTAVAARA Violin Concerto (world premiere)
RAVEL Tzigane
SIBELIUS Symphony No. 2
At a time when Finland was under Russian domination, Sibelius' Second Symphony was viewed as a message of hope. Today, the fiercely dramatic and ultimately triumphant work is one of Sibelius' most-loved compositions. The sparkling overture to Danish composer Nielsen's opera, Maskarade, sets the stage for a tale of romance and mistaken identity. American virtuoso Anne Akiko Meyers stars in not one, but two works for violin and orchestra — the world premiere of Finnish composer Einojuhani Rautavaara's posthumous violin concerto and Ravel's Tzigane, inspired by vibrant Gypsy music.
Student tickets are available for this concert. Please call the Symphony Box Office at (816) 471-0400 to purchase.
Become a subscriber today! Subscribe Now

Listen to the Symphony podcast:
[soundcloud url="https://api.soundcloud.com/tracks/304307353″ params="auto_play=false&hide_related=false&show_comments=true&show_user=true&show_reposts=false&visual=true" width="100%" height="112″ iframe="true" /]
Read the Program Notes:

---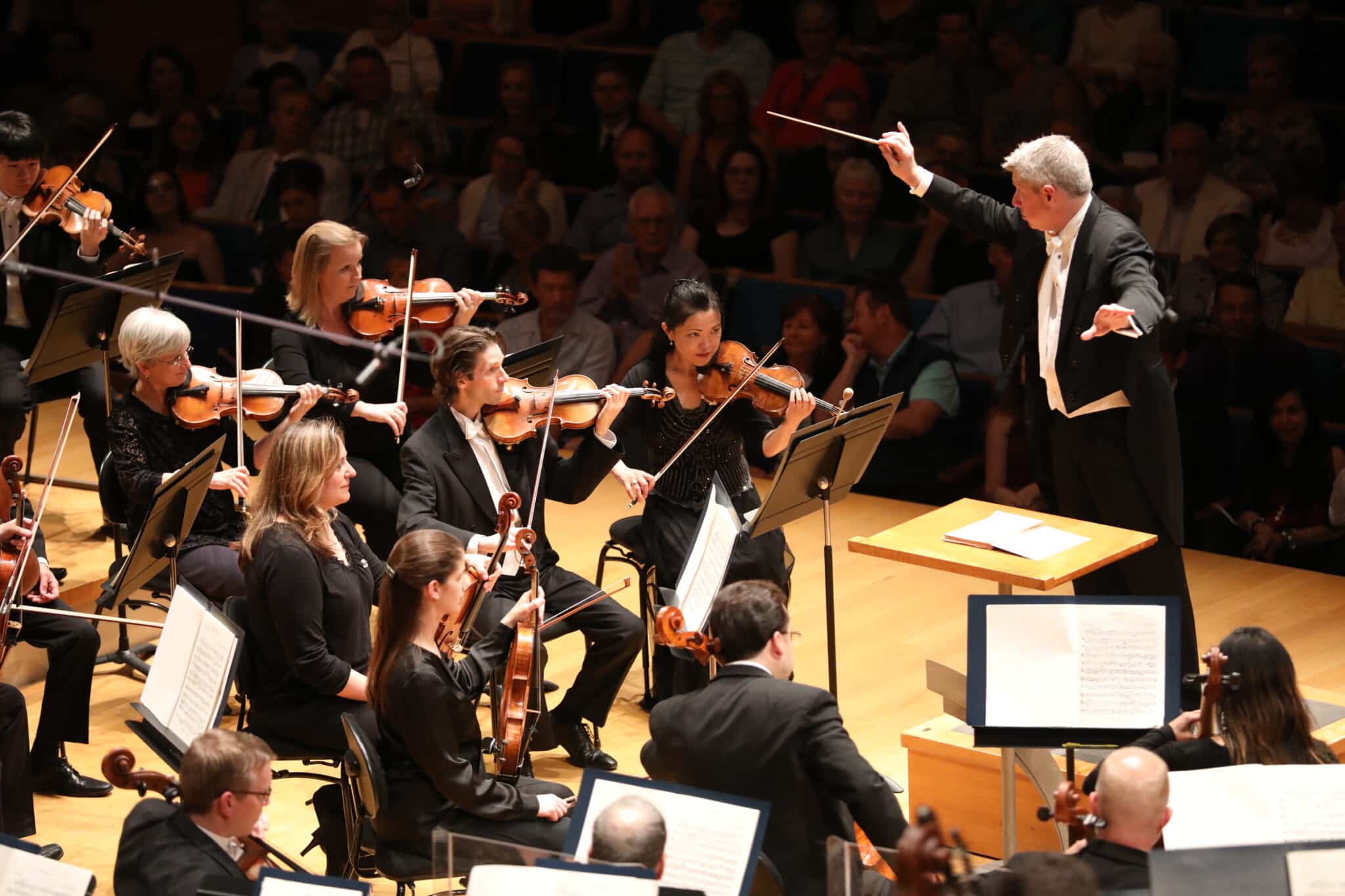 03/28/23
Upcoming 2023/24 Season is Michael Stern's Final Season as Music Director
Upcoming 2023/24 Season is Michael Stern's Final Season as Music Director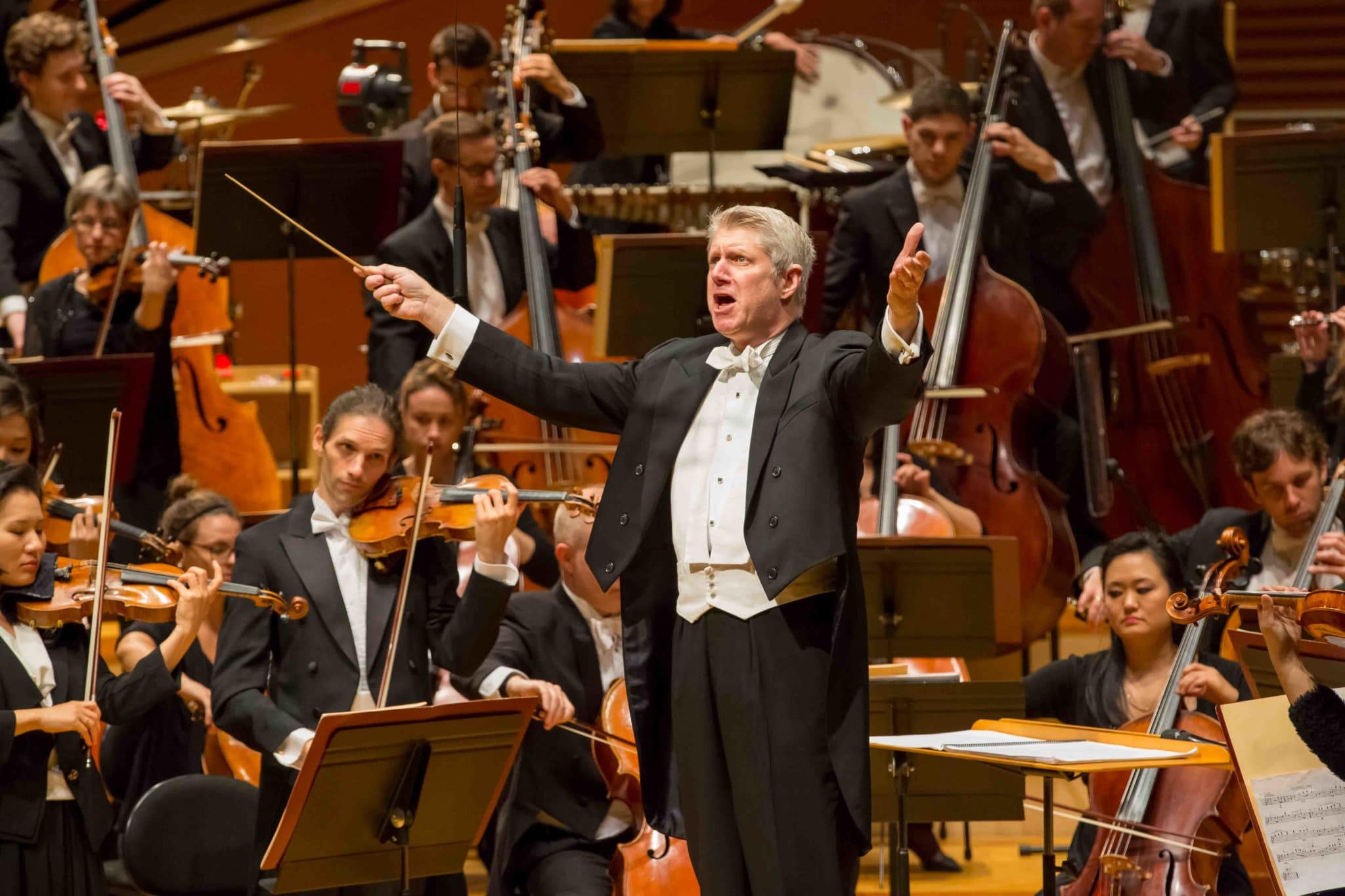 01/31/23
Kansas City Symphony Announces 2023/24 Concert Season: Michael Stern's final season as Music Director
Kansas City Symphony Announces 2023/24 Concert Season: Michael Stern's final season as Music Director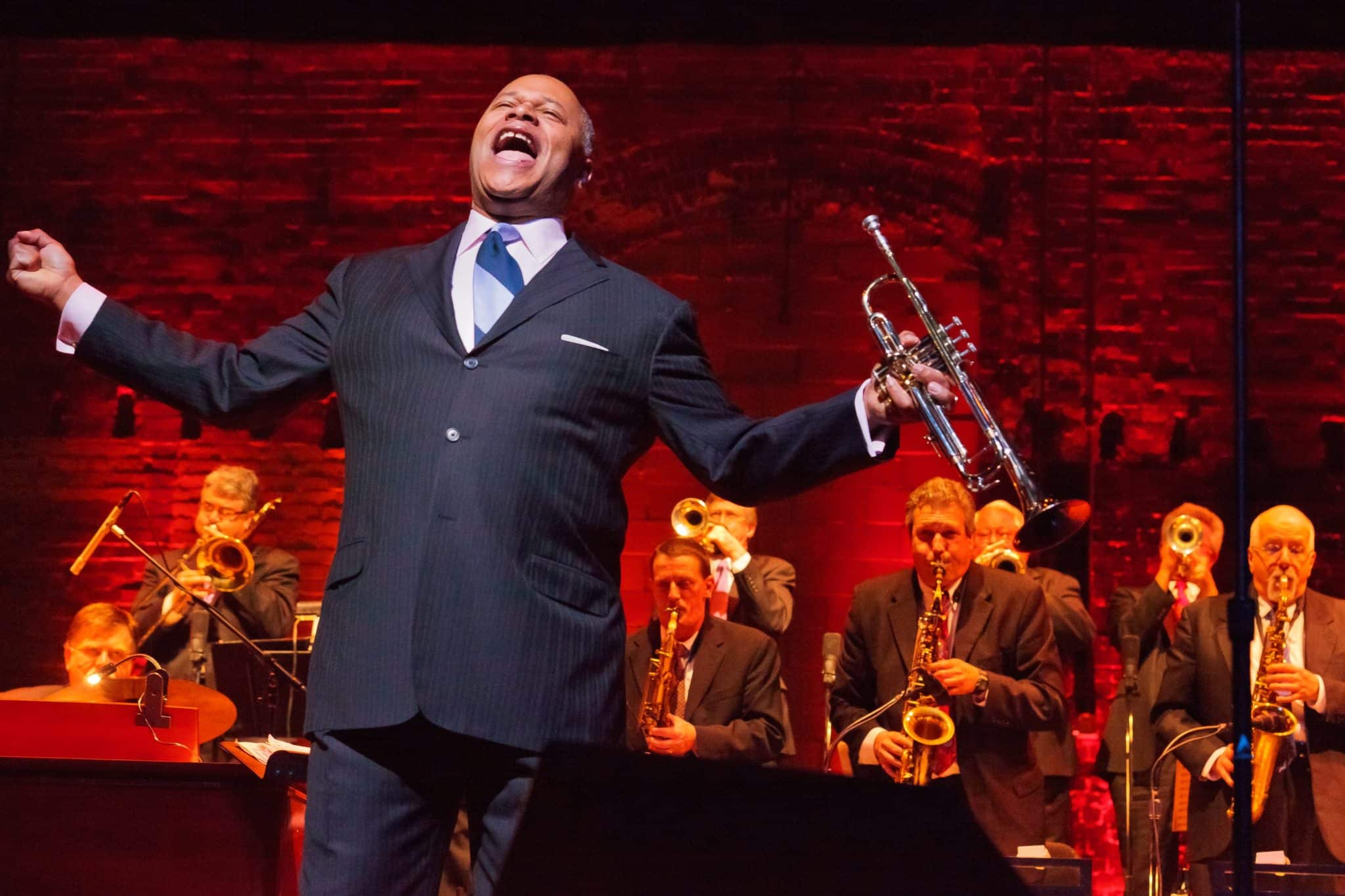 12/23/22
January is Jubilant! Enjoy KC Symphony concerts full of joy, nostalgia, thrills, wonder, and passionate performances
January is Jubilant! Enjoy KC Symphony concerts full of joy, nostalgia, thrills, wonder, and passionate performances