Home » Press Room » Symphony News
June 25: FREE Future Stages Festival!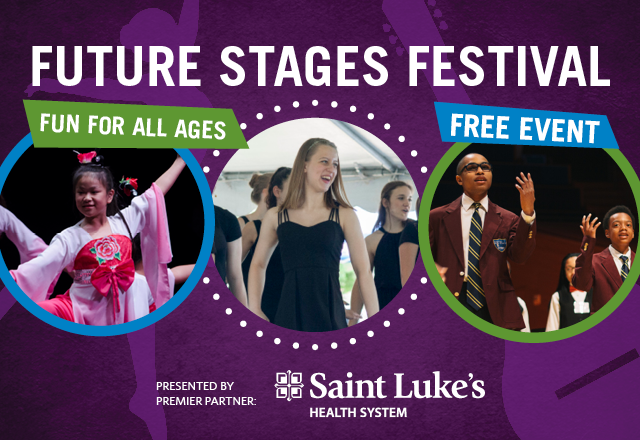 Don't miss this FREE day of non-stop family fun activities and performances at the Kauffman Center for the Performing Arts.
The 4th annual free Future Stages Festival will be held at the Kauffman Center on Sunday, June 25, 2017, from 11 a.m. – 4 p.m. The festival will feature 27 community performing groups from the greater Kansas City region, who will perform throughout the day in Muriel Kauffman Theatre, Helzberg Hall and on an Outdoor Stage.
5 Star Jazz Band
AileyCamp – The Group
Caruthers Dance Studio Troupe – The Hot Stepperz
Crescendo Conservatory – Crescendo in Motion
Grupo Axé Capoeira
Harmony Project KC
Heart of America Shakespeare Festival – Team Shakespeare
House of Dance and BEST NETWORK
Ice Studios School of Dance
Kansas City Ballet
Kansas City Youth Percussion Ensemble
KC Boys Choir & KC Girls Choir
KC Institute of Chinese Language and Culture Dance Group
Knox Church Celebration Choir
Kristi's Academy of Dance and Performing Arts LLC
Lily Zhang Li Taylor Dance Academy
Louder Than a Bomb KC Poets
Lyric Opera of Kansas City
Metropolitan Strings Academy Orchestra
Music Theatre Kansas City, SunRaise
Ottawa Suzuki Strings
Starlight STARS
Take the Stage Outreach Program
The Pulse Performing Arts Center Competition & Performance Company
The Smithville Ringleaders
Traditional Music Society's Soundz of Africa Youth Ensemble
United Dance Performers
The Kansas City Symphony will have its super fun Bush and Jamie Helzberg Instrument Petting Zoo on display for children to try out different orchestral instruments.
While the event is free, please take time to register at kauffmancenter.org/futurestages or by phone at (816) 994-7222 to receive the latest event updates and schedule for performances and activities. Registration is optional and no tickets will be issued, however, those registered are automatically qualified for a drawing for two tickets to an upcoming performance at the Kauffman Center!
Interactive Arts Activities and More by:
American Institute of Architects, Kansas City – Design YOUR KC!
Drum Safari – Drum Circle
Great American Kites and Events – Kite-Making Workshop
Heart of America Shakespeare Festival – En Garde Bard! Stage Combat Workshop
Kansas City Ballet – Capturing Creativity through Dance, Community Dance Workshop
Kansas City Symphony – Instrument Petting Zoo
Kansas City Zoo – BioFacts and Animal Conservation Activity
KC Chalk and Walk – Sidewalk Chalking
Keys 4/4 Kids – Pianos on Parade
Lucia Aerial – Acrobatic Demonstration
Lyric Opera of Kansas City – Opera's Magical Wardrobe
Mattie Rhodes Center – Cultural Arts Activity
Museum at PrarieFire – Engineering for Earthquakes
Saint Luke's Health System – Festival Giveaway Table
StoneLion Puppet Theatre – Roaming Puppets
The Last Carnival – Acrobatic Demonstration
The Nelson-Atkins Museum of Art – Sculpture Art Activity
UMKC Conservatory of Music and Dance – Make Your Own Instrument
Parking information:
The most convenient parking for Future Stages Festival will be available in the Arts District garage, directly attached to the Kauffman Center just south of the building with multiple access points to surrounding streets. Parking will cost $8. Patrons are encouraged to arrive early and park early. Click here to view a PDF map of surrounding parking options, provided by the Downtown Council of Kansas City.
For more information, please visit kauffmancenter.com/futurestages or call the Kauffman Center at (816) 994-7222.